Capitol Police Duties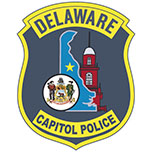 The Delaware Capitol Police is a statewide law enforcement agency responsible for the security of all three branches of state government throughout the state. Specifically, Capitol Police provides services to Woodburn (Governor's Mansion), Legislative Hall, Capitol Complex (Legislative Mall), Supreme Court, Superior Court, Chancery Court, Court of Common Pleas and the Family Courts in all three counties, the Carvel State Building and over 80 state controlled facilities and/or properties in the greater Dover area.
All Delaware Capitol Police officers are certified by the Delaware Council on Police Training and have statewide authority. Our officers take great pride in ensuring the safety and security of the governor, state legislators, legislative staff, judiciary, state employees, citizens and visitors to the State of Delaware. We act in conjunction with other municipal, county, state and federal law enforcement agencies to ensure that the best possible service is provided.
Selected Duties Described
More Information